What we learned at the World Refining Outlook
Big picture: The U.S. refining sector is positioned to thrive in the coming years, but bad government policies could threaten our competitive edge.
Image

Sarah Emerson, Alan Gelder and Debnil Chowdhury at the AFPM Annual Meeting's World Refining Outlook.
The AFPM Annual Meeting took place a few weeks ago, and each year, we host a panel called the "World Refining Outlook" that explores data, trends and forecasts for the downstream sector. Our conferences are loaded with interesting content, but this panel discussion, in my opinion, is among the most important.
This year, we heard from three experts who specialize in market analysis and insights for the downstream sector.
 
Sarah Emerson, President and Managing Principal at ESAI Energy LLC
Alan Gelder, Vice President of Refining, Chemicals and Oil Markets at Wood Mackenzie
Debnil Chowdhury, Vice President, Head of Americas Fuels and Refining at S&P Global
Here's what they had to say:
1. Global oil demand will continue to grow over the next 5 years.
We've heard too much from industry opponents about "peak oil" over the last few years. But the data shows different projections.
"Oil demand will grow by somewhere between, 6.2 and 6.4 million barrels a day between the end of 2022 and the end of 2027." – Sarah Emerson, ESAI Energy LLC
Image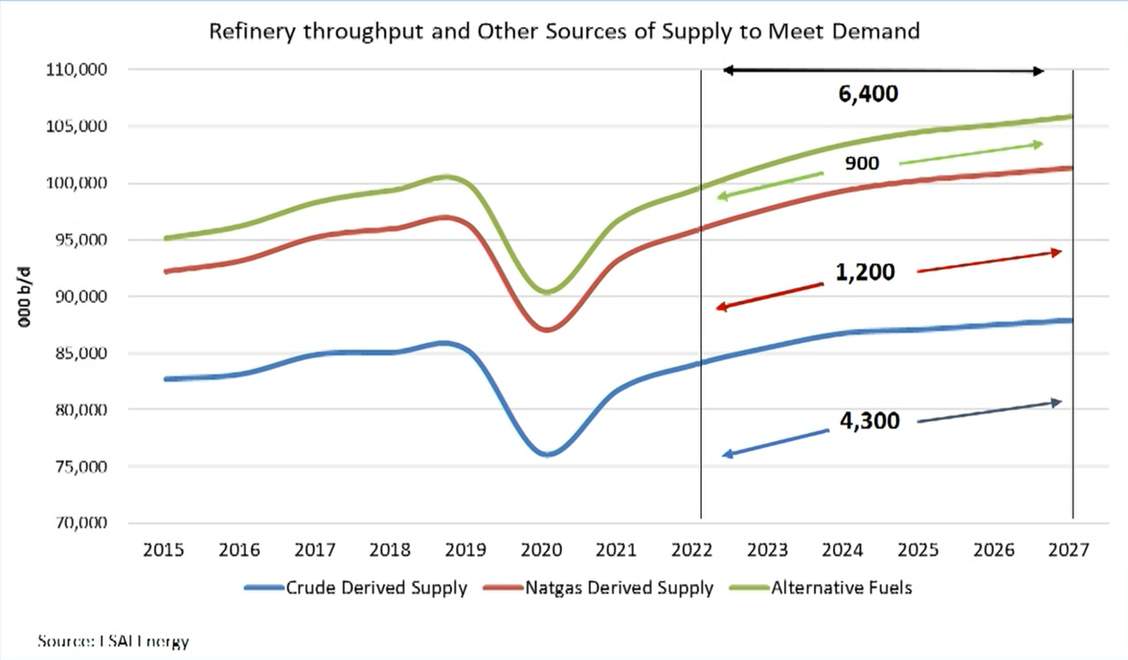 This chart shows projected global demand for refined products derived from oil, natural gas liquids and alternatives. Natgas-derived supply includes natural gas liquids like ethane and propane. Source: ESAI Energy LLC
2. The next two years look good for U.S. refiners.
Global refined product inventories are low, and U.S. refiners are in a good position to help replenish inventories of gasoline, diesel and jet fuel. This means that utilization rates should stay high for at least the next couple of years.
"The outlook for refiners, particularly in the United States, is strong... Utilization will remain high and margins are expected to remain strong." – Debnil Chowdhury, S&P Global
3. The United States' downstream sector is poised to thrive in the future, but bad policies, like export bans or restrictions on HF alkylation, could undermine our strong position.
"The ability of politicians to shoot themselves in the foot is renowned." – Alan Gelder, Wood Mackenzie.
The U.S. refining sector is the most competitive in the world — a national and global energy security asset. Even as global energy demand evolves, demand for petroleum fuels is expected to continue growing, and our complex refineries, excellent logistics and low energy costs mean that the United States should be well supplied and our refineries and petrochemical plants well positioned to thrive — particularly complexes that marry refining and petrochemical operations.
Still, bad policymaking and ill-conceived regulations could threaten the United States' competitive edge. Export bans and limitations, restrictions on HF alkylation and the expansion of California-style fuel standards and vehicle mandates could be counterproductive both for our industries and U.S. geopolitical standing.
At the end of the day, I walked away with one big, overarching takeaway: American refining and petrochemical manufacturing has a bright future. But we can't be complacent. When politicians try to throw us under the bus to score cheap political points (I'm looking at you, California), we — the people who understand the stakes better than anyone — must speak up.
Stand With Us
Join our community of employee advocates. Sign up for new content delivered straight to your inbox.